Children's Ministry
K through 6th grade
Blue Room, 10:00 AM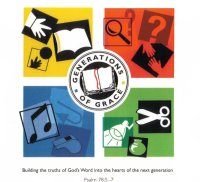 Our children younger than first grade will be taught from Jesus, What a Savior!, a curriculum developed by Children Desiring God. The children will learn that we are created to enjoy the glory of God, but that as sinners we fail to treasure Him as we should. This chronological study on redemption explores the incomparable greatness and worth of God, the desperate condition of helpless sinners, and the all-sufficient work of Jesus Christ to redeem sinful people.
Our children from first through sixth grade will be taught from a curriculum based on Generations of Grace, a curriculum from Grace Community Church. Our children will learn in a variety of ways, in question-and-answer format, activities, and/or crafts as appropriate. Over a three-year period, we will cover the historical books of the Old Testament, the gospel of Matthew, and the books of Acts and Revelations.
Questions?
Please contact us at cm@ebcb.org.